Surfing Lesson Waikiki: Book online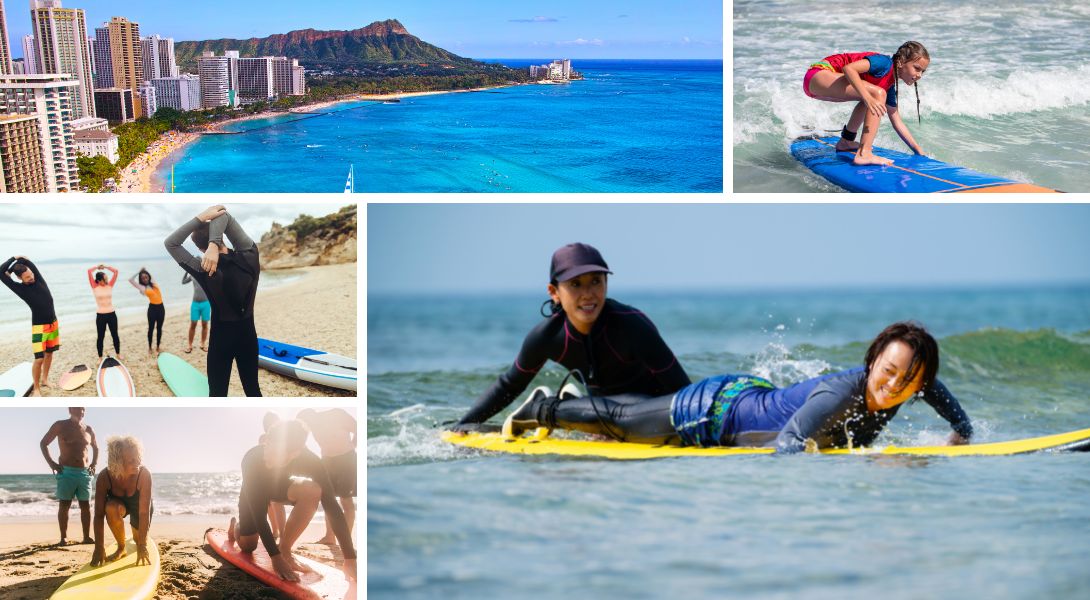 Your First Surfing Lesson
Aloha, wave riders! Are you ready to embark on an exhilarating adventure in the sun-kissed shores of Waikiki? Welcome to our surf school, where we bring those dreams to life under the warm Waikiki sun. Our Waikiki beach surf lessons are the perfect adventure for everyone, whether you're a total newbie or a seasoned surf sensation! As you dance with the waves under the guidance of our passionate and experienced surf instructors, you'll experience the thrill and the magic of the sea right at your fingertips. After all, there's no place quite like Waikiki to share the stoke, and we invite you to come, join our ohana, and unleash your inner surf rockstar and catch waves! So, grab your sunglasses and board wax, and let's dive into the playful wonderland of surf paradise with the entire family. Yeah!!!
Your Waikiki surf lesson will be tailored to you age and experience level, so regardless of what kind of surfer you are, there's something for everyone. Let our surf instructor team take you through the basics of surfing from paddling out, gliding, and standing up on your board. In addition to providing the technical skills and knowledge needed to help you have a blast on your first surfing lesson. Our lessons also bring the joy of connecting with nature and exploring Waikiki's stunning ocean environment. We understand that everyone learns differently and at their own pace, so we'll do our best to ensure that your surfing experience is both safe and enjoyable! Schedule private surf lessons or join a group surf lesson.
Don't worry if you don't have any gear – no problemo! Our surf school has everything you need for your first ever Waikiki surf lesson. From wetsuits to rashguards, boards to fins, waxing kits to leashes, we've got all bases covered. All of our rental gear is regularly checked and sanitized before each use, so you can rest assured knowing that you will be taking part in
The Basics of Surfing -
Learn about the basics techniques and its history in Waikiki
Surf's up, dudes and dudettes! Have you ever fancied riding the refreshing surf at Waikiki beach? Let's take you on a rad journey through the basics of surfing and its fun history in Hawaii. Waikiki, where the art of surfing was enjoyed by Polynesian settlers, became the epicenter for the ancient Hawaiian sport, he'e nalu. The chieftains and Hawaiian royalty enjoyed the adrenaline rush that came with conquering the waves atop a wooden board, long before Captain Cook landed on the shores. Today, Waikiki beach continues to be a mecca for aspiring surfers, drawing crowds from all corners of the world, the perfect place for surfing lessons. With its sun-kissed beaches, crystal clear blue water, and soft rolling surf, it's the perfect spot to learn the basics of the sport. So, grab your board and come along, as we ride together on the surfers' playground; mastering the pop-up on your trusty longboard and carving your way into the heart of this timeless water-bound tradition. Cowabunga, my friends – the ocean is calling!
Techniques for Smooth Riding -
Tips on how to get up, stand, and stay balanced on your board
Oh, the sweet feeling of gliding across the water on your board, feeling the wind in your hair and the sun on your face! It's truly a magical experience, but achieving that perfect balance and smooth ride might seem like a daunting task. Fear not, my fellow water wanderers! With guidance from our friendly and professional instructors, and a few simple techniques, you can become a master of standing and staying balanced on your board. As you'll soon learn, when it's time to get up, remember to keep your knees bent, allowing for a low center of gravity, and gradually straighten your legs as you rise. Once you're on your feet, distribute your weight evenly on both feet while engaging your core to maintain stability. And if the sea decides to play a little trick on you, just go with the flow and use your knees as shock absorbers, adjusting your stance accordingly. With practice, persistence, and a touch of playfulness, you'll soon be a smooth-riding sensation! And, whoever is having the most wipeouts with their surfing lessons is having the most fun!
Safety First -
Important safety guidelines to keep you safe while riding the waves
Surfs up, beach bums! Before you wax your board and slip into that rashguard or wetsuite, let's chat about those gnarly safety guidelines to keep you hanging ten instead of wiping out. Safety first, so make sure you scope out the ocean conditions before conquering that wave. Keep an eye out for rip currents, man - those bad boys just can't be trusted. Your professional surf instructor will keep you in the safety zones. Don't forget to strap on your trusty leash while you high-five the waves, because losing your board is a major bummer. And, hey, buddy system it up, because your surf pals are your lifeguard buds on the wild watery frontier. Now, venture forth and surf with safety under your belt! Cowabunga!
Gear Up -
What to bring along for your surfing lessons
Gearing up for your first Waikiki surf lesson is a thrilling adventure, and trust me, you don't want to wipeout even before catching your first wave! Our surf school will provide the essentials, like a surfboard, leash, and possibly a rashguard, being prepared with a few handy extras can make your experience all the more enjoyable. A reusable water bottle will keep you hydrated between surf sessions, and slathering on some waterproof sunscreen will save your skin from turning into a lobster! Don't forget a beach towel to dry off – who knows, you might even feel like sunbathing after riding those gnarly waves. Now, go ahead and hang ten, my friend!
Getting Ready to Surf -
Get ready mentally and physically with warm-ups and exercises
Before you grab that surfboard and ride the waves, let's warm up. To ensure a safe and fun surfing experience, make sure to take the time to warm up your body and mind. Warm-ups are a great way to prepare physically for the physical activity of surfboarding. Grab some basic stretches such as shoulder rolls, toe touches or arm swings to get those muscles loosened up! Then gear up for the psychological challenge with visualization techniques such as looking at pictures of the surf or listening to beach music – channel your inner surfer and get ready for an epic adventure! Finally, add in a few strengthening exercises like push-ups or sit-ups to practice your balance and prep your core strength before heading out into the water. Get mentally and physically prepared with these warm-up tips and you will be able to hit those waves with confidence!
Private Surf Lesson
A private surf lesson might be the perfect way for you to learn how to master the art of surfing, with one-on-one or private group instruction from a knowledgeable and experienced pro. If you want to make the most out of your surfing experience, signing up for a private lesson is an ideal way to ensure that your skill level will rise quickly – plus, it's just plain fun! From honing stance and balance tactics in order to stay on board, through mastering how best utilize both arms and legs for maximum power when riding… our surf instructors will be by your side.
Group Lesson
Group surfing is an amazing way to learn how to ride the waves, and can be a lot of fun too! With group lessons, you'll have camaraderie with your peers as well as the support of a professional instructor. When making turns on the wave, it's helpful to watch others before having a go yourself. Plus, you might make some new surfing buddies along the way! Group surfing lessons are a great option for those who want to learn in an encouraging and supportive environment.
Ready, Set, Surf! -
Put what you've learned into action for your surfing lessons
Grab your board, zip up your wetsuit or put on a rash guard, and hit the waves - it's time to master some essential wave catching techniques! Eager to put those newfound surfing skills to the test? Ride the unruly ocean with a grin by taking off at the perfect moment, eyeing your line, and trusting your instincts as the water carries you forward. Discover the bliss of gliding effortlessly through the salty air, while letting your playful spirit ride high on the crests and dips of the ever-changing sea. With each thrilling attempt, your balance, confidence, and agility will improve as you embrace the exhilarating world of wave-catching. Surf's up, my friends!
Congratulations! You now have all the knowledge you need to head out and rip some waves! Surfing is not only a fun and exhilarating pastime, but it's also a great way to stay healthy in mind, body, and spirit. Make sure you always wear sunscreen, bring along a friend, and take safety precautions before heading out into the water. Now that you know the basics of surfing show off that skill with your friends and family. Get creative – try different techniques like 'hanging 10' or make up your own surf style! Keep practicing, challenge yourself to help improve your technique, and most importantly – have fun! Surf's up!