Welcome! Rainbow Watersports Adventures was founded on the North Shore of Oahu by Nate and Heidi Burgoyne. They both love the ocean and love to teach, and thus, the launch of Rainbow Watersports Adventures was the natural thing to do.
They, and their instructors, have taught hundreds and hundreds people from all around the world how to stand up paddle. Thier positive enthusiasm of the sport is contagious and our paddlers have appreciated their upbeat fun attitudes.
With proper instruction and guidace from qualified instructors, you will nail down the basics, enjoy your time on the water and have success on your very first lesson. Call any time at 1-800-470-4964 or email info@rainbowwatersports.com.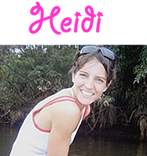 Heidi Burgoyne has been a long time board sports enthusiast. Whether she's screaming down the powdery mountain of the Rockies on a snowboard,skating through the city streets, or surfing the waves of the North Shore, Heidi has always got a smile on her face and a thrill in her heart for extreme board sports.
Heidi has found joy in both the surfing and fitness aspects of the sport and is able to instruct her students on proper techniques for fitness paddling as well as surfing. She regularly has top 3 finished in local stand up paddle races.
She has an extensive history of teaching water sports to adults and children of all ages.
Heidi teaches intro and intermediate classes, and pre-surf classes.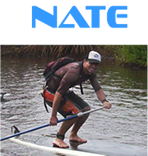 Born on Oahu, Nate Kalani Burgoyne loves the ocean. He lives on the North Shore and has been 100% hooked on stand up paddling since his very first paddle out years ago. Ever since then he has done all he can to promote the sport and help others have a successful experience with it.
Nate Burgoyne is the editor of Stand Up Paddle Surfing Magazine and is always willing to share his knowledge of equipment and technique with his students.
He also author of the first published book about stand up paddling called The Stand Up Paddle Book. Nate is all smiles. And whether he's charging big waves or enjoying a mellow paddle in the harbor he's always at home on the water. Nate teaches most of our Pre-Surf and Coastal Adventure classes.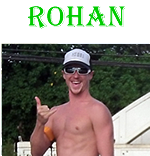 Rohan is tons of fun! Everyone who paddles with Rohan loves how friendly and fun he is. There's never a dull moment with Rohan. He consistently get raving reviews from his students.
He's completely at home on the water and is one of the best stand up paddle intructors at Rainbow Watersports.
Rohan graduated in recreation management from Eastern Illinois University and is a certified lifeguard. Rohan teach stand up paddlers of all ages and abilities and is one of our head instructors.
With Rohan, you're definitely going to have a blast!